What to Expect During Skin Testing
Allergy skin testing is a convenient means of identifying the triggers of your allergy symptoms within about 20 minutes. Extracts of common allergens such as dust mites, molds, pollens, cats or dogs, foods, etc. are placed in the superficial layers of the skin. In our office, we have chosen to use a multi-pronged applicator which allows for quick and easy administration of multiple tests at once. The total number and type of allergens tested will depend on your history and suspected triggers.
If you are allergic to one or more of the allergens tested, a small itchy red bump (similar in appearance to a mosquito bite) will appear at the site within 5-20 minutes. Once the results have been interpreted and recorded, the skin surface will be cleaned off and generally the reactions will fade gradually over the course of about 30 minutes. Larger reactions may resolve more quickly if an oral antihistamine is taken after the test.
For those patients who do not react to this type of skin test, more sensitive intradermal skin testing may be performed.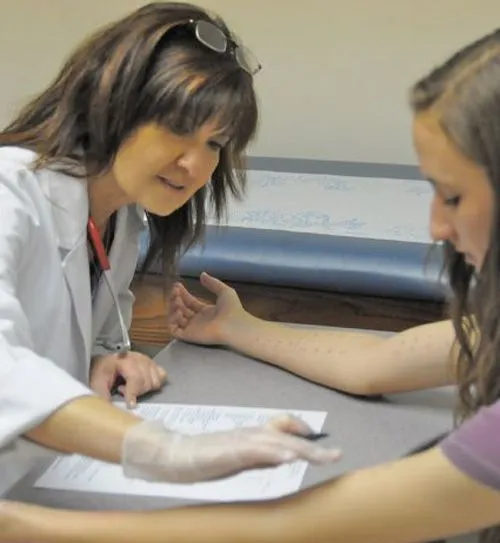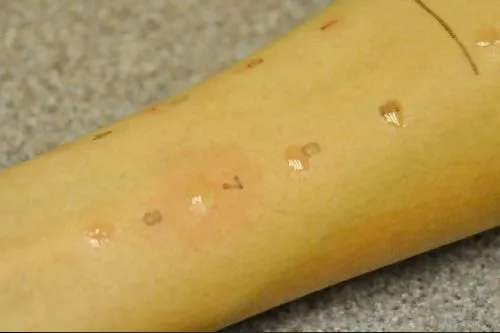 Depending on the results of your skin test, your allergist will determine the best way to treat your allergy symptoms.
For more information on how to allergy proof your home, click here.
If you are a candidate for allergy skin testing (foods, pollens, dust mites, animals, molds, insect venom, Penicillin) please review the following: Please eat a normal diet and wear clothing that allows exposure of the entire length of the arms. (Gowns are available if necessary). You may wish to bring a light jacket or sweater to cover the exposed test site when you leave the office. Parents of young children may want to bring a favorite toy or stuffed animal.
We kindly ask that you do not take any medications that contain antihistamines or have antihistaminic properties for at least 5 days prior to your visit These medications can interfere with testing of allergies and render the skin test less reliable. If your symptoms are intolerable without these medications , please continue to take all your medications! The doctor will still examine you find an alternative method to pursue allergy testing.
List of medications to be discontinued:
Antihistamines: Claritin (loratadine), Zyrtec (cetirizine), Allegra (fexofenadine), Clarinex, Benadryl (diphenhydramine), Atarax (hydroxyzine), Palgic, Rynatan, Deconamine, Tylenol PM, Periactin, Xyzal (levocetirizine), Sinequan (doxepin)
Cough and cold preparation with antihistamines: Tylenol/Advil Cold and Allergy, Nyquil, Alka-Selzer Cold and Allergy, Thera-flu Night Time, Robitussin, Triaminic
Medications for reflux or gastritis that are histamine blockers: Pepcid (famotidine), Zantac (ranitidine), Tagamet (cimetidine).
Antihistamine nasal sprays: Patanase, Astelin (stop only two days before skin test), Astepro
Antihistamine eye drops: Patanol, Pataday, Bepreve, Optivar, Zaditor
Certain antidepressants, such as amitriptyline and doxepin (Sinequan)
Again, if your symptoms are intolerable, continue taking all your medications.
Do not stop taking:
Asthma medications: all inhalers, Singulair
Steroid nasal sprays: Nasonex, Flonase (fluticasone), Nasacort, Rhinocort, Omnaris, Veramyst
Other medications prescribed by your physicians for treatment of other medical conditions
Plain Sudafed (red OTC 30mg tabs), Mucinex, Mucinex-D, Mucinex-DM, Delsym
If you are unsure about a medication, please read the label or call our office.
We accept a variety of insurance plans
PPO plans:
Anthem Blue Cross (Not in network for Covered CA PPO plans)
Blue Shield of California (Not in network for Covered CA PPO plans)
Aetna
Cigna
Health Net
United Health Care
ILWU
Pinnacle Claims Mgmt
Motion Picture Industry
Most other PPO or private insurance plans
Medicare
HMO plans:
TriWest/TriCare
THIPA
Health Net Covered CA HMO - Community Care "Direct Network: So Calif"
Out of network or no insurance:
Cash discounts and payment plans are available. Please inquire with our billing department.
*If you do not see your plan listed, please call our billing department at (310) 371-1388 ext. 19 and we will be happy to verify coverage or make alternate arrangements.
We look forward to seeing you.